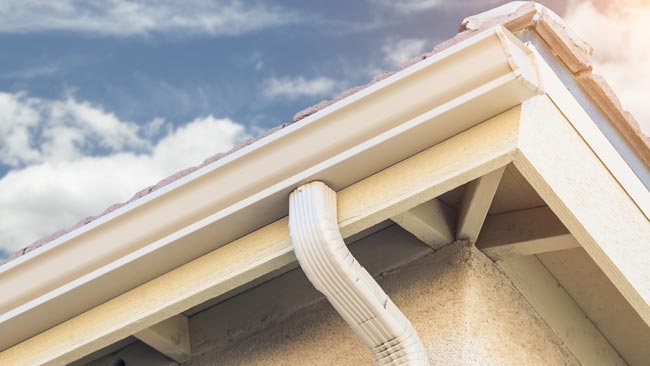 Gutter & Downspout Replacement
Gutters are the unsung hero of the roofing system. They have the important job of channeling rainwater away from vulnerable parts of your home. It can be easy to forget about your gutters until there is something wrong with them. At Quality Home Exteriors, we've been installing new gutters for customers in Omaha for nearly 20 years.
Your Siding Has Met Its Match
Rainware System components are designed, manufactured and custom-installed to effectively channel the water running off your roof. That's important to maintain the appearance of your home and the landscaping, decking and concrete around it. But Alside® Rainware Systems give you even more. With ColorConnect®, our unique color-matching system, we offer rainware that matches, complements or contrasts with your Alside vinyl siding for a complete custom appearance.
Alside rainwear systems include gutters, elbows, downspouts, miters and other accessories. Gutters are fabricated on-site by your installer from color-matched gutter coil to give you a complete system. Our 20-year Limited Warranty protects you when the rain pours down.
Features & Benefits
Built for custom, on-site installation by your installer
ColorConnect color-matching system
Complete line of accessories for a perfect finish
20-year Limited Warranty
ColorConnect® Color Matching System
Soffit, trim, accessories, rainware, gutter coil, fascia and trim coil can perfectly match or complement the color of your siding thanks to Alside's exclusive ColorConnect color matching system. ColorConnect standards have been painstakingly applied to Alside products to ensure that your home is perfect in every detail.
Protect Your Home's Exterior
Time for a gutter replacement? Quality Home Exterior can inspect and install gutters on your Omaha home. We've been in the business for nearly 20 years and we're the hometown favorite for dependable service at affordable prices. Call us at (402) 403-5815 or fill out our appointment form today.