Offering Tub-to-Shower Conversions to Homeowners Throughout Omaha, NE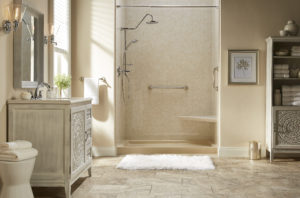 It's a common occurrence for many homeowners: As time goes on and their needs change, they start looking around their homes and figuring out what areas they need to upgrade. What's not working for them anymore? Often, these upgrades start in the bathroom and specifically, with their bathtub. Once the kids are no longer little, or as homeowners get older and their mobility is more limited, they start to recognize there's no longer a need for a bathtub. Having a walk-in shower is a much smarter option. If that's your reality, turn to Quality Home Exteriors for a professional, efficient tub-to-shower conversion at your home in Omaha, Nebraska. We'll be glad to upgrade your bathroom with a sleek, modern shower that has all the functionality you need.
Our Walk-In Showers
The showers we install as part of our tub-to-shower conversion service are top-of-the-line and offer exceptional benefits, including:
Durability – Made from virgin acrylic that is resistant to cracking and peeling, our showers look as flawless years down the road as they do on the day they are installed.
Low maintenance – Tired of scrubbing at the grout and dealing with mildew? That will no longer be a worry with one of our walk-in showers installed. Our showers have Silver Shield® antimicrobial protection that stops bacteria and other microbes from growing and reproducing, which means no more mold or mildew to contend with.
Customizability – You'll be able to design a shower that perfectly meets your needs. Choose the wall surround, faucet style, and even accessories. You can add grab bars, shelving, seating, and more.
Get Started Today
Your tub-to-shower conversion is just a phone call to Quality Home Exteriors away! We will be happy to schedule a complimentary consultation at your home in Omaha, NE, to discuss our services in greater detail. Contact us today to get started.