The Benefit of Replacing Your Roof and Gutter System
Apr 20, 2018
[company_name] is not just a window and door replacement expert. We are also one of the top roofing contractors in our local area. Our expertise was recognized by Remodeling Magazine, which honored us with the Big 50 Award. This award recognizes the top 1% of all remodeling companies in the country.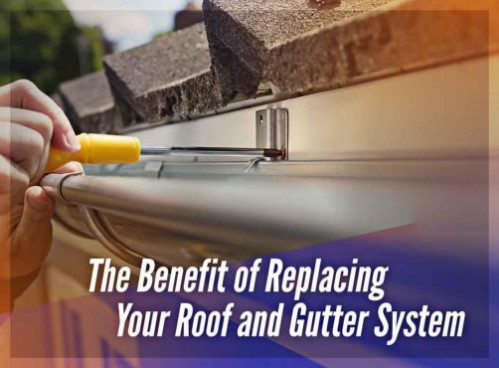 You can count on us if you need a new roof or gutter system. If you'd like to learn more about the benefits of a roof or gutter replacement, here's more helpful information:
The Benefits of New Gutters
Many homeowners don't pay attention to their gutters, and we believe this is a mistake. Your gutter system is one of the most important parts of your home because your gutters catch and redirect rainwater from your roof. Damaged or clogged gutter systems will allow rain to damage your landscaping, siding, roof, and more. If you currently have very old gutters, consider replacing them. A quality gutter replacement is one of the best ways to prevent costly water damage.
The Benefits of a New Roof
A new roof can transform your home's appearance. As one of the top roofing contractors in our area, [company_name] can install some of the best asphalt shingles in the country. For instance, our Pinnacle® Pristine architectural shingles are an excellent addition to your home. This is because they come in stunningly beautiful colors that last. The color palette includes Pristine Pearl, Pristine Sunset, Pristine Weathered Shadow, and more. They also feature Scotchgard™ Protector that can help prevent ugly blacks streaks caused by algae.
Apart from increased curb appeal, a new roof will also better protect your home. As an experienced roofing contractor, we can install the Atlas Signature Select® roofing system for our customers. Atlas designed every part of this roofing system to work with each other, to better protect your home. You can rely on our roofs to withstand harsh weather conditions and prevent water from damaging your interior.
We started this business because we believe homeowners deserve something better. As one of the leading roofing companies in our country, our goal is to make your home improvement project smooth and hassle-free. [company_name] serves many areas in Nebraska, including Lincoln, and Omaha, NE. Call us at (402) 403-5815 to learn more about our roof replacement and gutter replacement services. You can also schedule an appointment.